EXPERIENCE DESIGN/
RESEARCH/EDUCATIVE TOY
A proposal that investigates Child Screen Time in contemporary text. A collaboration project between Tracy Yu, Cathie Peng, Anya Liu and Cicy Zhu. We hope this project will give keen insights to future projects. Digital devices have become inseparable parts of contemporary lives. It is important to guide the children in the digital age to develop a good habit of regulating their screen time.
​
​
OVERVIEW
OUR BIG CHALLENGE,
revolves around how to properly educate the children (age4-5) to interact with digital tools as well as creating opportunities for children to interact with the real world.
includes collected materials such as secondary research and first-hand interview to help us better approach the challenge we set for ourselves. We have also initiated our concept process to close up the gap we have between theory and practical use.
a friendly, approachable, tangible and educative tool that helps children develop self-regulating screen time ability.
DESIGNERS


NICE TO MEET YOU :)
Character design/ animation, also responsible for organizing Karaoke for the group.
​Anya Liu
Research and character design support, provide unlimited food support for the meetings. Genau~
Lead 3d modeling as well as design concept support also is the lead singer in any Karaoke event.
Design concept and graphic support carries lots of unrelated laughs to the meeting.
RESEARCH
What we found out...?
USER PERSONA
To better approach our project...
We crafted these two user personas to help us better understand our targeted users' needs and interests.
USER JOURNEY MAP
Find our opportunities!
From all the ideas we have, we liked these...
#1
We will introduce a companion buddy that will work to "power up" the tablet while you are using the digital screen. Your buddy won't be able to work for long hours [>30min], or he will be too tired and pass out :(
#2
We will introduce a diligent robot that you will need to build yourself to work for you to "power up" the tablet. Its batteries will run out too[~30min], so It will need to be charged in separate parts to be "hired" again.
the second idea, for its ability to grow with the child and its potential to have more educational value
+
WALKTHROUGH,
Follow us ➡️
1. Set up the device by parents
​
When you receive our package, we require parents to set up the Bluetooth connection for the device and input the child's age for a suggestive daily screen time
We will suggest the best time length for your child when you fill in your child's age.
2. Introduction to your child
Parents and children will watch a video of how to build this robot together, and the parent could use this as an opportunity to have a proper digital usage conversation with their child.
We would like to make sure that your child is safe with our device, so we recommend you build the first robot with your child together. You are also welcomed to do this exercise often with your child to witness their fast growth!
3. Discover your character
We created a background story for each character. Each time your child clicked into their account, the system will generate a character for them to build and to interact with.
Provide companionship for our young audiences. Also with different configurations for building, our target group will practice various ways of building abilities.
We have a voive & video guide for your child to build their companion. Each block will have a chip to register the correct configuration and for older child, there will a tapping action needed in addition to the correct configuration.
For different configurations, we want them to learn and understand the logic of the device and also through different tapping action, we want them to practice recalling information.
5. Start your today's screen time
After unlocking the tablet, the characters will introduce themselves and the official timer will start from this moment.
Children have basic comprehension skills. Providing a background story employed as a mechanism for inviting interaction. Showing total screen time also sets expectations.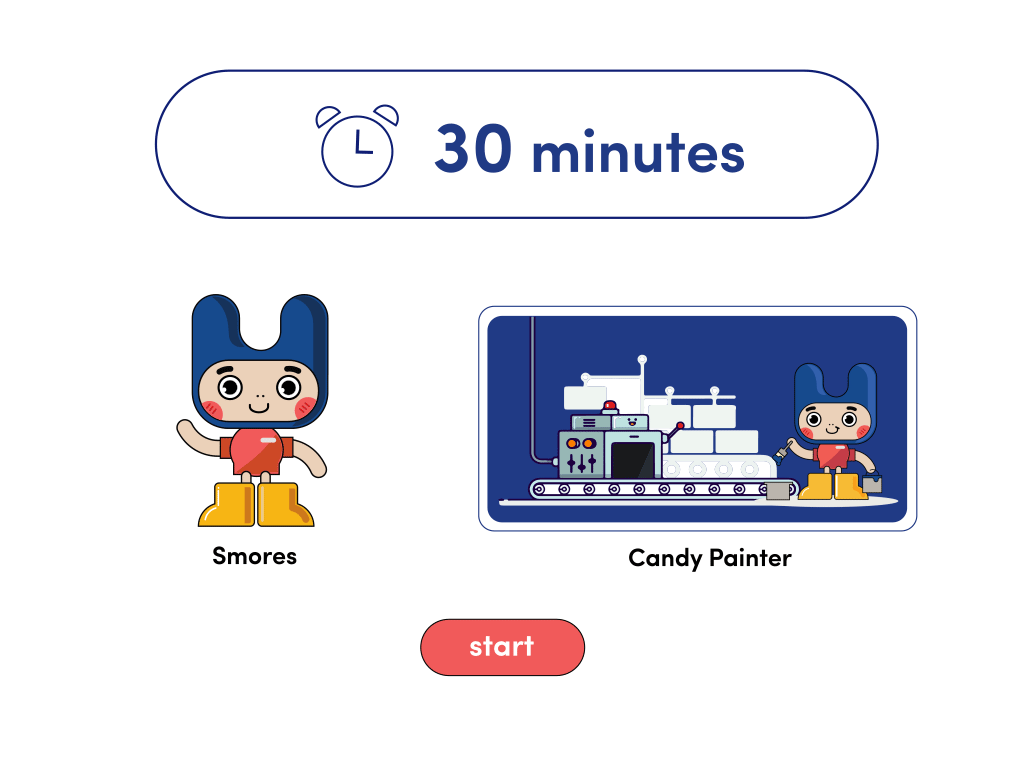 The timer will frame the current screen and a progress bar will appear at the bottom where time will be visualized by the character's movement. Reminding animation will be shown for the last ten minutes.
Children cannot read analog clocks. We use time bars to visualize the passing of time that is understandable. 3-5 reminders before time up to work as a reinforcement that helps kids to learn a sense of time.
7. Take apart and put away your toys
We encourage the child to put away their own toys by showing them their character is too tired to work and needs to be recharged.
This process gives children a transitional time from the digital to the physical world. Seeing the toy getting tired helps children learn empathy. Cleaning up and charging the toy teaches children manners and responsibility.
After all parts were properly placed back to the base, a surprise element might appear on the screen, but there is no guarantee that they will receive surprises every time because we don't want them to develop a habit of getting reward.
Unexpected rewards will promote well behavior, as a motivation for kids to clean up.
FUTURE DEVELOPMENT
We would like to..
​
︎ Further, develop the mechanical and electronic units inside different parts.
︎ Find a suitable finish and material safe for the child and follows law regulation
︎ Execute user testing and see what are our users' reactions, both from parents and from children.
︎ Adjust design responsively to our observation :)
WHAT I HAVE LEARNED....
​
This is a research-heavy experience design that I want to draw attention to children's technology well-being and find a possible solution to educate screen time control.
During the research stage,
I have heavily involved in secondary and primary research including reading papers, interviewing professionals and users. I have worked the team to create our journey map and find design opportunities by analyzing our users' pain points. I have condensed our research findings that help our team to effectively design the best solution to our problem.
​
During the execution stage,
I brainstormed with our team through ideation and came up with the concept design. I am mainly focused on the digital aspect with Tracy of our product, we designed the digital character together and the workflow of our user while using Robot Buddy. I have created the instruction file and some illustrations.